30 May 2022...:
Our conversations are ephemeral yet becoming very living beings

29 June 2022,... that circulates and that lubricates friction between us.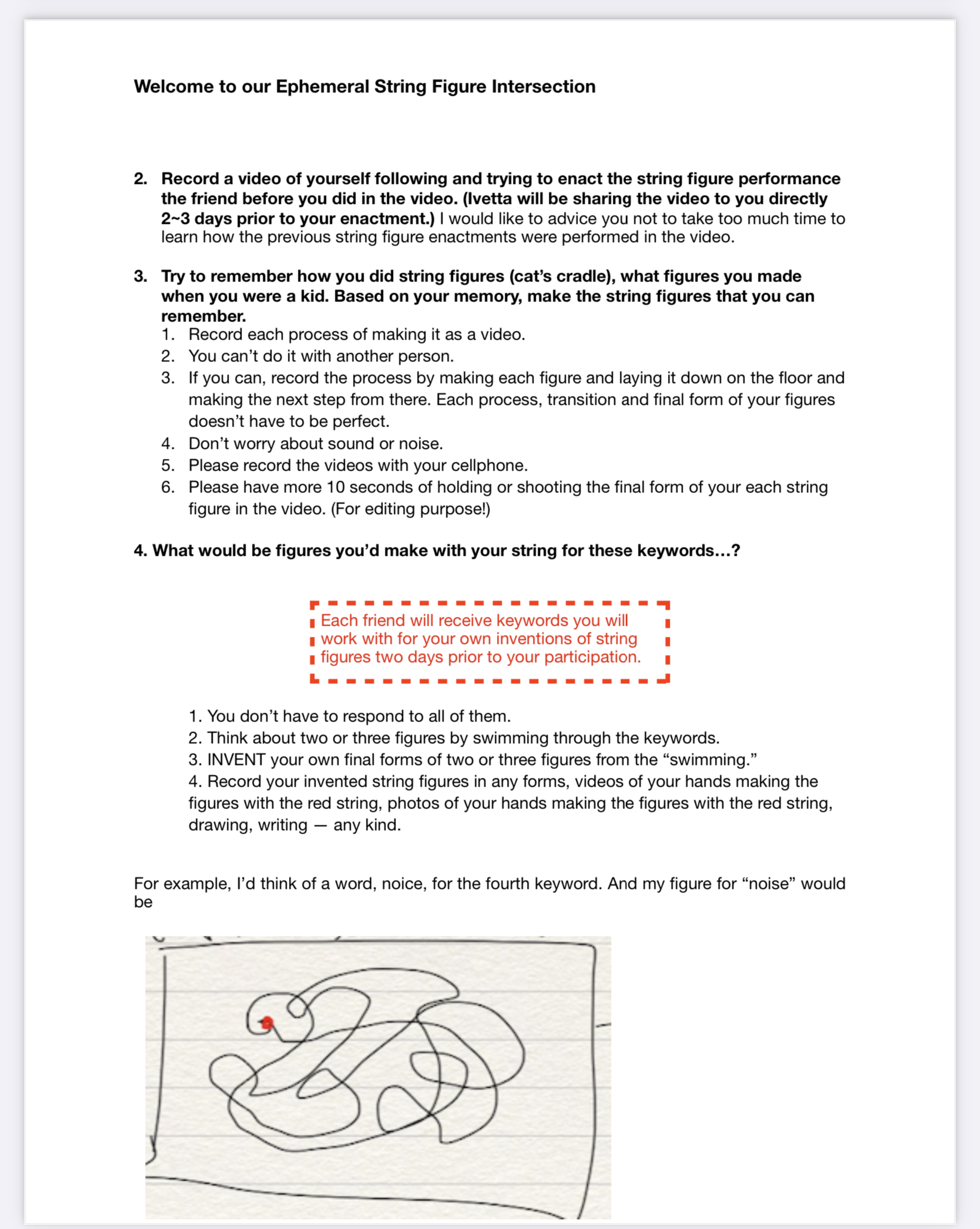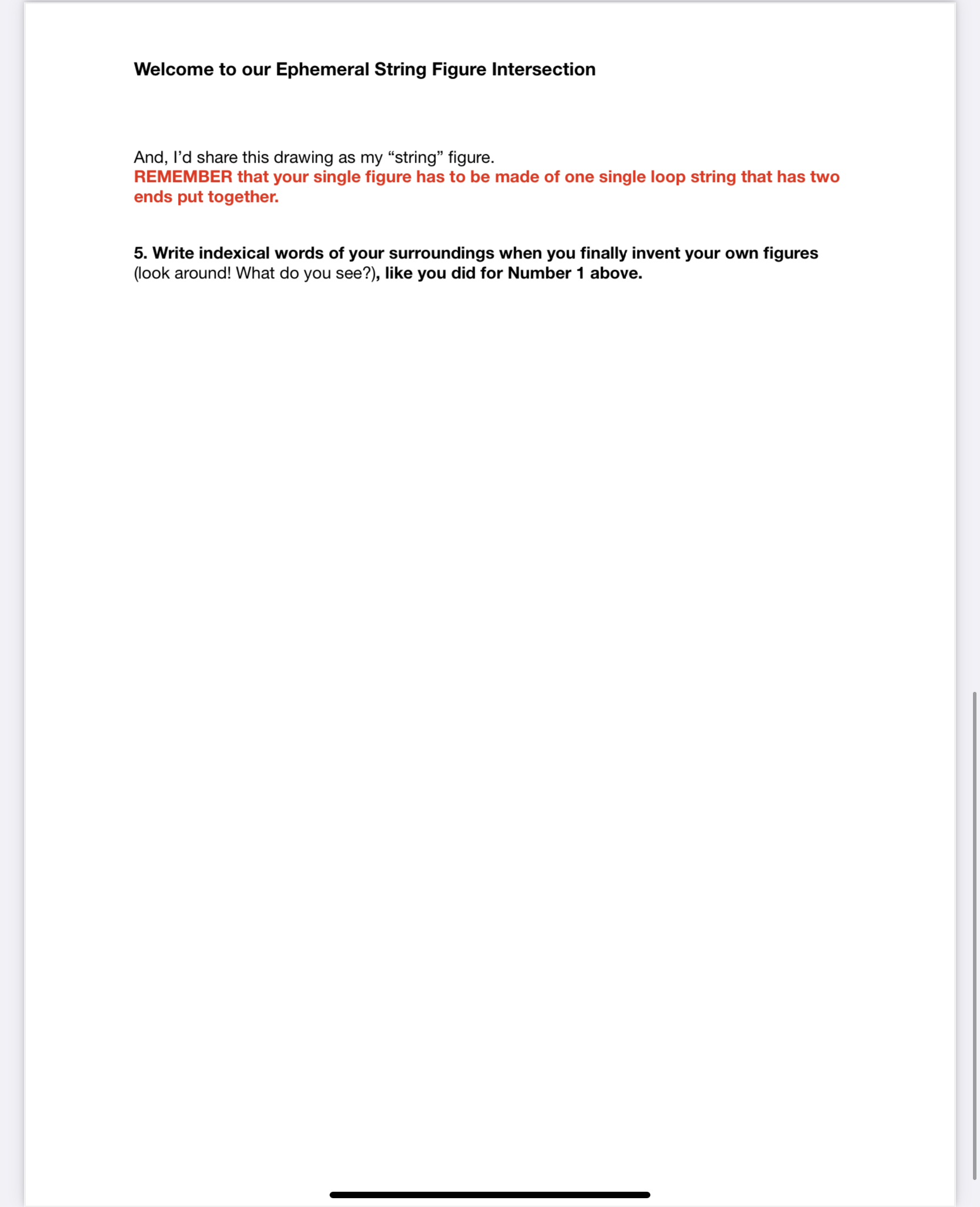 Gryski, Camilla and Tom Sankey. Cat's Cradle, Owl's Eyes: A book of String Games. New Yorkl, N.Y., Scholastic, 1995.
---

29 June 2022

𝐈 𝐡𝐚𝐝 𝐚𝐛𝐨𝐮𝐭 𝐟𝐨𝐮𝐫𝐭𝐞𝐞𝐧 𝐜𝐨𝐧𝐯𝐞𝐫𝐬𝐚𝐭𝐢𝐨𝐧𝐬 𝐰𝐢𝐭𝐡 𝐬𝐢𝐱 𝐟𝐫𝐢𝐞𝐧𝐝𝐬 𝐥𝐢𝐯𝐢𝐧𝐠 𝐢𝐧 𝐝𝐢𝐟𝐟𝐞𝐫𝐞𝐧𝐭 𝐜𝐨𝐮𝐧𝐭𝐫𝐢𝐞𝐬 𝐟𝐫𝐨𝐦 𝐭𝐡𝐞 𝐟𝐢𝐫𝐬𝐭 𝐰𝐞𝐞𝐤 𝐨𝐟 𝐌𝐚𝐲 𝐭𝐨 𝐭𝐡𝐞 𝐟𝐢𝐫𝐬𝐭 𝐰𝐞𝐞𝐤 𝐨𝐟 𝐉𝐮𝐥𝐲. 𝐓𝐡𝐞𝐫𝐞 𝐰𝐞𝐫𝐞 𝐭𝐨𝐩𝐢𝐜𝐬, 𝐢𝐝𝐞𝐚𝐬, 𝐞𝐦𝐨𝐭𝐢𝐨𝐧𝐬 𝐚𝐧𝐝 𝐭𝐡𝐨𝐮𝐠𝐡𝐭𝐬 𝐭𝐡𝐚𝐭 𝐨𝐜𝐜𝐮𝐫𝐫𝐞𝐝 𝐢𝐧 𝐜𝐨𝐦𝐦𝐨𝐧 𝐛𝐞𝐭𝐰𝐞𝐞𝐧 𝐞𝐯𝐞𝐫𝐲 𝐜𝐨𝐧𝐯𝐞𝐫𝐬𝐚𝐭𝐢𝐨𝐧. 𝐓𝐡𝐞 𝐜𝐨𝐦𝐦𝐨𝐧𝐚𝐥𝐢𝐭𝐲 𝐨𝐟 𝐭𝐡𝐢𝐬 𝐮𝐧𝐢𝐧𝐭𝐞𝐧𝐝𝐞𝐝 𝐝𝐢𝐬𝐩𝐨𝐬𝐢𝐭𝐢𝐨𝐧 𝐨𝐟 𝐨𝐮𝐫 𝐜𝐨𝐧𝐯𝐞𝐫𝐬𝐚𝐭𝐢𝐨𝐧𝐬 𝐬𝐞𝐞𝐦𝐬 𝐭𝐨 𝐫𝐞𝐬𝐞𝐦𝐛𝐥𝐞 𝐭𝐡𝐚𝐭 𝐨𝐟 𝐭𝐡𝐞 𝐜𝐫𝐨𝐬𝐬/𝐢𝐧𝐭𝐞𝐫-𝐜𝐨𝐧𝐭𝐢𝐧𝐞𝐧𝐭𝐚𝐥𝐢𝐭𝐲 𝐨𝐟 𝐬𝐭𝐫𝐢𝐧𝐠 𝐟𝐢𝐠𝐮𝐫𝐞 𝐠𝐚𝐦𝐞. "It's a bit difficult to understand how the same thing [string figure game] is done in Patagonia as is done within the Arctic Circle or the Kalahari Desert without leaving some evidence in Europe and Asia [where have distinctively different string figures compared to that of the three former cases]."

𝐘𝐞𝐭, 𝐚𝐜𝐭𝐮𝐚𝐥 𝐦𝐚𝐧𝐢𝐟𝐞𝐬𝐭𝐚𝐭𝐢𝐨𝐧 𝐨𝐟 𝐰𝐡𝐢𝐜𝐡 𝐨𝐮𝐫 𝐬𝐡𝐚𝐫𝐞𝐝 𝐭𝐡𝐨𝐮𝐠𝐡𝐭𝐬 𝐚𝐧𝐝 𝐞𝐦𝐨𝐭𝐢𝐨𝐧𝐬 𝐮𝐧𝐟𝐨𝐥𝐝 𝐢𝐧 𝐭𝐡𝐞𝐢𝐫 𝐞𝐯𝐞𝐫𝐲𝐝𝐚𝐲 𝐥𝐢𝐟𝐞 𝐰𝐚𝐬 𝐞𝐱𝐭𝐫𝐞𝐦𝐞𝐥𝐲 𝐝𝐢𝐟𝐟𝐞𝐫𝐞𝐧𝐭 𝐚𝐧𝐝 𝐫𝐞𝐥𝐚𝐭𝐢𝐨𝐧𝐚𝐥 𝐭𝐨 𝐞𝐚𝐜𝐡 𝐟𝐫𝐢𝐞𝐧𝐝'𝐬 𝐬𝐮𝐫𝐫𝐨𝐮𝐧𝐝𝐢𝐧𝐠𝐬, 𝐦𝐞𝐦𝐨𝐫𝐢𝐞𝐬, 𝐩𝐫𝐞𝐬𝐞𝐧𝐭 𝐚𝐧𝐝 𝐬𝐨 𝐨𝐧. 𝐀𝐧𝐝 𝐰𝐞 𝐦𝐢𝐠𝐡𝐭 𝐧𝐚𝐦𝐞 𝐬𝐮𝐛𝐭𝐥𝐞 𝐝𝐢𝐟𝐟𝐞𝐫𝐞𝐧𝐜𝐞𝐬 𝐛𝐞𝐭𝐰𝐞𝐞𝐧/𝐢𝐧 𝐨𝐮𝐫 𝐜𝐨𝐧𝐯𝐞𝐫𝐬𝐚𝐭𝐢𝐨𝐧𝐬 𝐝𝐢𝐟𝐟𝐞𝐫𝐞𝐧𝐭𝐥𝐲 𝐢𝐧 𝐫𝐞𝐬𝐩𝐞𝐜𝐭 𝐨𝐟 𝐫𝐞𝐥𝐚𝐭𝐢𝐨𝐧𝐚𝐥 𝐜𝐢𝐫𝐜𝐮𝐦𝐬𝐭𝐚𝐧𝐜𝐞𝐬 𝐦𝐲 𝐟𝐫𝐢𝐞𝐧𝐝𝐬 𝐰𝐞𝐫𝐞 𝐢𝐧. "Some places make realistic figures […] whereas most of Micronesia and the Australian figures would be geometrical and are consequently named after flowers and starts and things." 𝐖𝐡𝐞𝐧 𝐠𝐢𝐯𝐢𝐧𝐠 𝐝𝐢𝐟𝐟𝐞𝐫𝐞𝐧𝐭 𝐧𝐚𝐦𝐞𝐬, 𝐜𝐨𝐦𝐦𝐨𝐧 𝐭𝐡𝐢𝐧𝐠𝐬 𝐛𝐞𝐭𝐰𝐞𝐞𝐧 𝐮𝐬 𝐛𝐞𝐜𝐨𝐦𝐞 𝐬𝐨𝐦𝐞𝐭𝐡𝐢𝐧𝐠 𝐬𝐮𝐛𝐣𝐞𝐜𝐭𝐢𝐯𝐞 𝐡𝐞𝐧𝐜𝐞 𝐢𝐧𝐝𝐞𝐩𝐞𝐧𝐝𝐞𝐧𝐭. 𝐘𝐞𝐭 𝐰𝐞 𝐚𝐫𝐞 𝐬𝐭𝐢𝐥𝐥 𝐢𝐧 𝐭𝐡𝐞 𝐫𝐞𝐚𝐥𝐦 𝐨𝐟 𝐜𝐨𝐦𝐦𝐨𝐧𝐚𝐥𝐢𝐭𝐲.

𝐒𝐨 𝐈 𝐜𝐚𝐥𝐥 𝐨𝐮𝐫 𝐜𝐨𝐧𝐯𝐞𝐫𝐬𝐚𝐭𝐢𝐨𝐧𝐬 𝐒𝐭𝐫𝐢𝐧𝐠 𝐅𝐢𝐠𝐮𝐫𝐞 𝐈𝐧𝐭𝐞𝐫𝐬𝐞𝐜𝐭𝐢𝐨𝐧.




Bibi:
Image 1~3: images of Welcome to Our Ephemeral String Figure Intersection Instruction (that was sent to the six friends participating in the project)
Image 4~5 * quotations above: String Figures: The Collections of Harry Smith Catalogue Raisonné, Volume II